You probably know Jenna as an incredible writer. Or maybe you know her as a serial Pitch Wars Mentor, always looking to pay it forward and help authors get better. Or maybe you know her from her blog. And if not, you probably know her from Betty Bites Back, a feminist horror anthology! Either way, it's Jenna's birthday and we're here to celebrate her!
*Dusts off the old vinyl record player, lights a candle, and starts to sway*
Jenna, you are amazing. Hilarious. Kind. Thoughtful. Talented as Hell. (I seriously need the rest of the Dr. S book, okay?). I believe in you with all of my heart and I know that so many good things are coming for you. You are such a badass, a fighter, and an amazing creator and I am so ready to celebrate that! Much love. <3 Jolene
First, a cheers! I saw a little of this Black Magic and thought of you.
I also wanted to give you something to dance to. Want to know what album I put on? Welcome to the mystical, witchy, gothic surf music of The Growlers.
Happy birthday, babe.
Happy birthday, Jenna!
You are amazing and I hope you have the best birthday ever!!! Here's a toast to you!
A
Jenna,
If you look up bad-ass babe in the dictionary, you'd find a picture of yourself. No…seriously…I did the research.
Loyal like a mama bear, spectacularly crafty and a killer author, you truly are a triple threat.
You've always got the back of those around you and I'm grateful to have you in my creepy corner!
Happy birthday, you beauteous creature!
Love, Mary
To the talented, beautiful, strong, and generous Jenna! (whoever gets you for a Pitch Wars mentor will be one lucky writer!)
A birthday wish for you…
Goblin King…Goblin King…
I wish…
Take Jenna's kids away for a day so she can use the bathroom in peace!
I also wish you lots of smiles and cake and all the love, because you deserve it.
You're the best! You're a rock star!
Kathy
Jenna, you are WANTED!
As a lover of true crime and a fellow Murderino, you know what evil lies in the hearts of humans.  But if you weren't such a great writer, that evil wouldn't sound so tempting. I'm sure your birthday dinner will be delicious, but I'm going to stick with the veggies.
Well, maybe just a taste…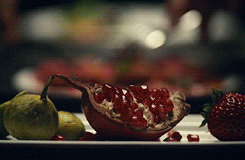 I hope you have a wonderful birthday with all your favorite things to imbibe.
Victoria
Happy birthday, Jenna!
I hope your birthday is amazing! I brought along some party music that you can also write to:
Hope your birthday rocks!
Brian
Love,