/
Not-So-Tricky Treats for Halloween
Who says Halloween treats are just for kids? In the 21 and over crowd, most Halloween beverages fall under the category of dessert rather than hydration. If you choose to drink, please do so responsibly. To support our underage and chemically dependent readers, all of these drinks can be deliciously made sans liquor.
1. Jell-O
This wriggling, mysterious substance is perfect for Halloween. Pictured above are three ways to serve Jell-O (shots). What makes it glow in the black light? Quinine, of course! We turn the garage into a black light room every Halloween with fluorescent black lights from a hardware store, a strobe light, and purple rope lights. What better way to add the element of surprise than to have a drink or dessert that changes in the light? When making Jell-O shots, another tip is to put the Jell-O in fruit rinds. It's easier to drink that way. Check it out.
2. Gummy Worms
Dirt and worms are tasty at any age, especially in this festive design. The alcohol version is vodka worms like these. They take about a week to soak, so plan ahead.
3. Apple Cider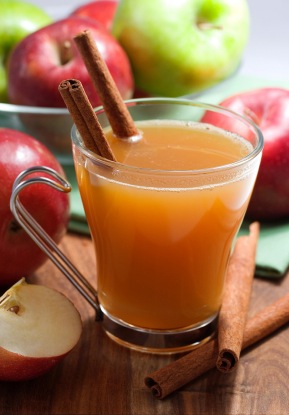 This is one of the few recipes that I have created and make well. It's a modification of my mother-in-law's recipe.
Toss in a crockpot (heated in 1-2 hours):
48 oz. cranberry juice
1 gal. apple cider
1/2 C brown sugar
3 cinnamon sticks
1 sliced orange
4 chai tea bags
You can add spiced rum, but I want to try this whipped apple cider-tini recipe this year.
4. Witch's Brew
In this case, the witch's brew is jungle juice, and it comes out once a year. The recipe is red Kool-Aid (with extra packets for flavor) and Everclear (…to taste). We always make an O-negative version (just Kool-Aid) for universal consumption, ha ha. At this point, the brew is bewitching, but to make it extra witchy, add dry ice from the grocery store. Handle with care. If jungle juice is not your thing, there are a lot of excellent punch recipes to try.
What are your traditional tricky or not-so-tricky treats?